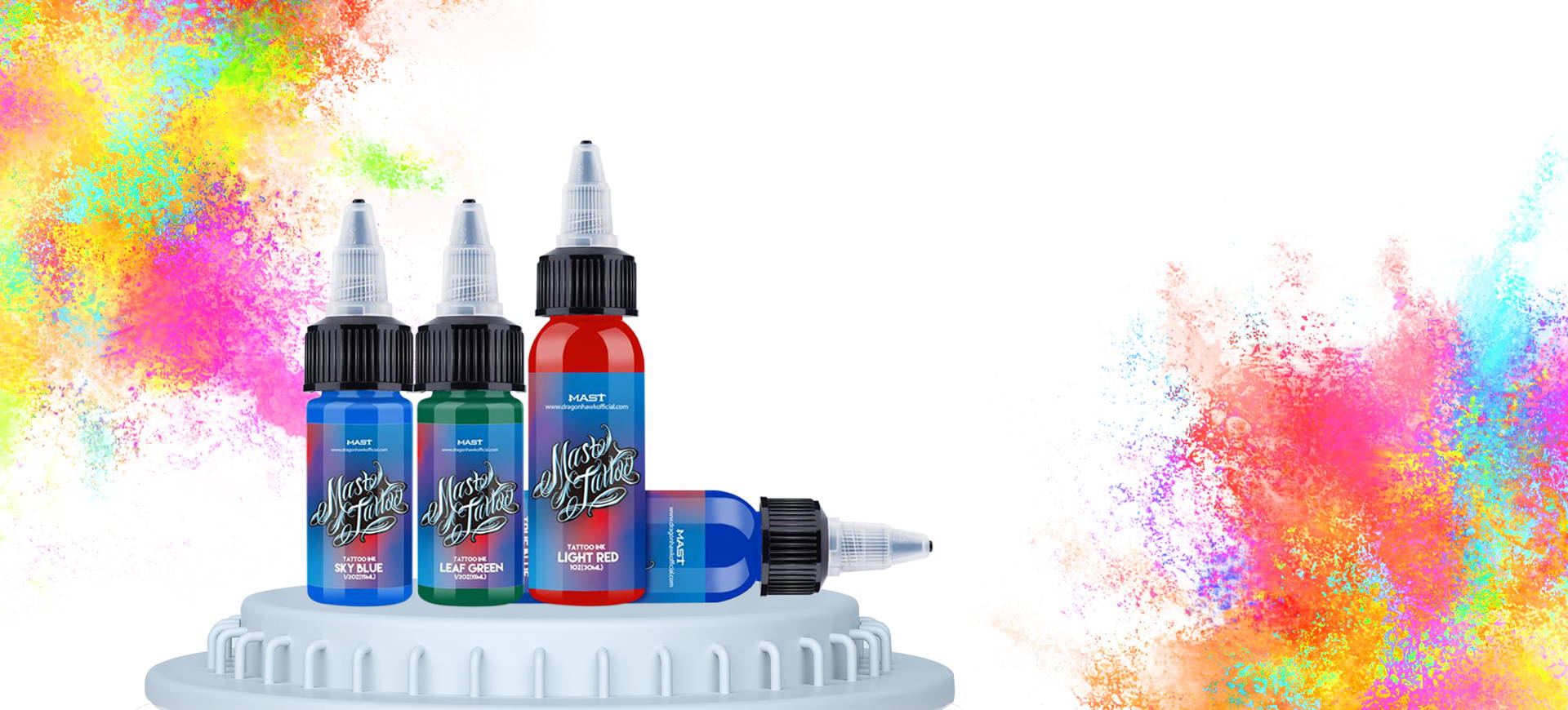 What's Mast Tattoo Ink
Mast Tattoo Ink belongs to one of series of Dragonhawk tattoo. New but good performance while using. With so many brands tattoo ink in the maket, it's hard to decide which is the best and suitable for customers. The variety of brands and colors can be overwhelming but making a good selection is crucial for the result.
Here Mast Tattoo Ink is bright, vinrant, long-lasting and above all – safe for customers. That means, your ink should be produced to the highest industry and health standards as well as the packaging they come in. Inks should be sterilised and sealed when you buy them, so they cause no harm to customers, that's Mast Tattoo Ink always does to provide a clean and safe products.
What Colors Mast Tattoo Inks Have
Mast Tattoo Ink at Veetattoo is available in Triple Black, High White, Light Red, True Blue, Light Green, Light Purple and Lightning Yellow.
Why choose Mast Tattoo Ink
The best tattoo ink to use always depends on your needs. For most customers, he may want to stick to a reputable brand that produces inks under the highest standards, but you also must consider the purpose, style, your own preference and last but surely not least, the skin of yourself. Meanwhile, let's have a look on what other people who bought mast ink said:
  Michelle S.
  Perfect color
  Perfect color for what I needed it for
  Dizzy P.
  Exactly what I needed
  Been mixing my own flesh tones for anime style tattoos until I saw this. Thanks a lot
  Justin U.
  Its wonderfully dark
  This is my favorite as well as many of my friends and family in the industry
  Mikey S.
  Bold , dark , great flow
  I've tried many blacks, and next to dynamic I love how black this goes in without being to thick and smearing   your stencil! Quality ink that pairs amazing with some envy 2 cartridges !
  Tova S.
  Best tattoo supply
  Fast shipping. Excellent colors. Dragonhawk customer
    Above all, you may have a overall knowledge about mast tattoo ink; also have a roughly awareness about how to choose a good tattoo ink. If you have any questions, please feel free to contact us at service@veetattoo.com
---